Yesterday, i said a sad goodbye to an old friend at ABC No Rio. Cookiepuss was a steadfast companion in my volunteer shifts at the No Rio computer center, a cranky yet gregarious presence. I met her soon after moving to New York, and have hung out with her nearly every week for years.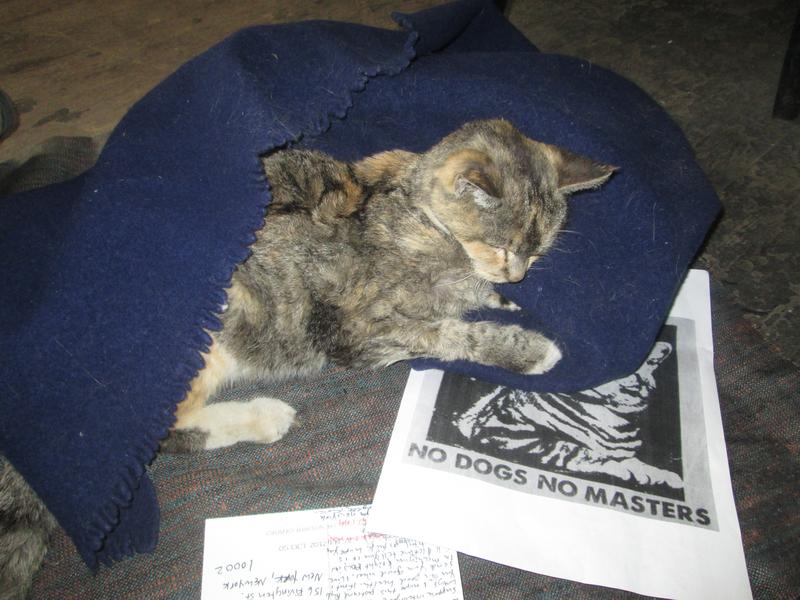 She had the run of the building at ABC No Rio, and was friends with all sorts of people. She was known and loved by punks and fine artists, by experimental musicians and bike mechanics, computer geeks and librarians, travelers and homebodies, photographers, screenprinters, anarchists, community organizers, zinesters, activists, performers, and weirdos of all stripes.
For years, she received postcards from all over the world, including several from people who had never even met her in person. In her younger days, she was a ferocious mouser, and even as she shrank with age and lost some of her teeth she remained excited about food.
She was an inveterate complainer; a pants-shredder; a cat remarkably comfortable with dirt; a welcoming presence to newcomers and a friendly old curmudgeon who never seemed to really hold a grudge even when i had to do horrible things like help her trim her nails.
After a long life, she died having said her goodbyes, and surrounded by people who loved her. I couldn't have asked for better, but I miss her fiercely.